A Day In The Life Of.... Stuart Burrows, since retiring
---
Usually I awake at around 6.00 a.m. and make myself a cup of tea. I listen to the daily news on the radio and usually fall asleep for another hour or so. At around 8.00 a.m. I take a shower, dress and have breakfast. Then I spend an hour reading the daily newspapers.
When my family visit me I spend the day playing with my grandson, Rhys.

Sometimes I am asked if I will listen to singers and give advice. This I do preferably in the morning.

As a hobby I keep Koi carp fish and recently managed to breed 30 successfully. They need a great deal of attention and I owe much of this success to my household companion, Patricia, who besides keeping my home beautifully in order, is also an animal lover and fish expert to boot! She also looks after my two West Highland Terriers when I am away from home.

Another of my hobbies is snooker and as you can see Rhys can't wait to be the next Steven Hendry!





I am also the President of
many choirs and organizations throughout Wales and devote a great deal of time to these during the year. Some afternoons are devoted to letter writing for these causes.











---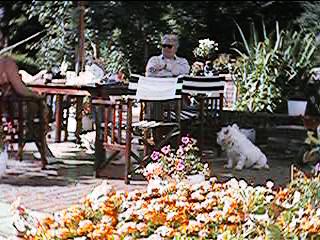 I enjoy listening to music and spend many hours in the evenings in my study playing tapes and recordings that I have collected over the years. I enjoy watching sport on T.V. but find that my music study and record playing is more of an attraction throughout an evening. My day ends around 11.00p.m. and I go to bed.

Midi(Catalan Folk Song) arranged by Miguel Llobet (1878-1938)(Patrick Grant)