Tributes to Stuart Burrows
When Stuart was asked which 'tributes' to him did he especially enjoy receiving, he mentioned the following two.
The naming of a 'Le Shuttle' locomotive after him!, and also having a mosaic portrait of himself constructed this year in the town where he was born and grew up, Pontypridd, South Wales.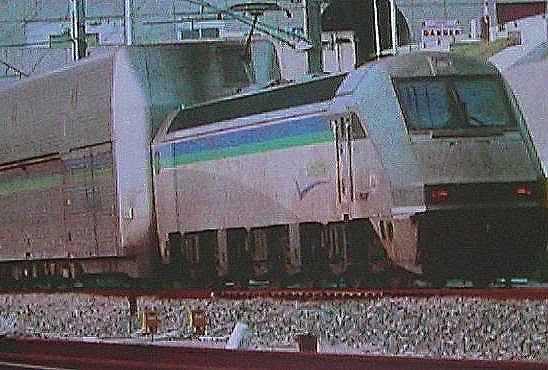 Eurotunnel held A naming ceremony at Folkestone, England, where the tunnel linking England to France was finally built. Stuart was unable to be at the naming ceremony in 1995, due to singing committments. However on September 30th, 1997 he was able to visit, along with his two year old grandson and other family members to have photographs taken to record the event.
There are 38 trains, all named after International Opera Stars. Many train enthusiasts knew all about them the moment the name plates were mounted onto the trains!!
Many thanks to Anne Leva who organized the event. A wonderful day was had by all who attended.

The mosaic of Stuart was commissioned by Rhondda Cynon Taff Community Arts and was made by Andrew Bolton. It is of Stuart in the Mozart role of Idomeneo. There are eleven separate panels in the mosaic and the first represents Evan and James James (yes... James James was his real name!), who wrote the Welsh National Anthem, 'Hen Wlad fy Nhadau', (you're listening to it now!). The mosaic is located on the site of their former house. The singer Tom Jones and the late Baritone, Sir Geraint Evans are also from Pontypridd and are represented in the mosaic.
| | | |
| --- | --- | --- |
| | The Stuart Burrows panel used tiny 6-8mm sq. Italian glass tesserae for the face and hands and the rest of the image consists of specially handmade glazed stoneware pieces. | |
Stuart was invited as guest speaker on the day the mosaic was unveiled and said he felt proud to have this tribute from the people of his home town.